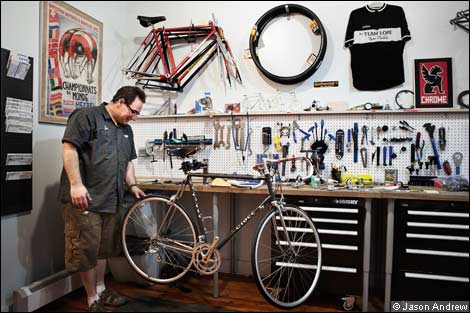 "It's like architecture, but it's smaller and I can touch it and it's done in an hour – as opposed to a building which take seven years, and then it gets cancelled."
By day, Joe Nocella works in a tall, 1950s building in midtown Manhattan for architecture giant HOK, creating virtual models of construction projects. By night, and on weekends, he repairs to his small, unheated shop, 718 Cyclery, on the edge of Brooklyn's Park Slope neighbourhood, where he builds real bikes – involving equally demanding schedules, clients and just-in-time supply-chain co-ordination. Not to mention the occasional punter coming through the door with a dusty mountain bike that hasn't seen the light of day in years.
Continue Reading: FT.com / Pursuits – Bike building … with the FT.